Do you know, now you can connect your forms to hundreds of web services like CRMs, email marketing software, payment methods, and more? All thanks to Zapier
After going through this article you will be able to easily integrate your contact form on your WordPress website with Zapier.
With Zapier addon on WPForms, you will be able to easily automate workflows and connect contact forms to additional web services.
But If you don't know much about Zapier, or hearing about it for the first time let me introduce you to it
What is Zapier?
Zapier can be described as "the glue that connects thousands of web apps."
First, you have to link your web apps for them to share data.
On Zapier you create a thing called "Zaps", each zap is composed of two main parts: a trigger and an action.
These Zaps can link different apps and services to each other to create a smarter workflow and save you lots of time. All this can be done without writing a single line of code.
What is WPForms?
WPForms is a WordPress plugin that helps you create beginner-friendly WordPress forms in minutes with a drag & drop form builder. The forms you create with WPForms are easy to embed and mobile-friendly.
With WPForms you can create:
Contact form
Payment form
Email subscription form
Registration form
Other features of WPForms include:
Multi-page forms
Payment gateway integration
Spam Protection
Smart conditional logic
Instant notifications
Email marketing software integration
Now we will integrate salesforce form with the help of WPForms on your WordPress in just a few simple steps
So let's begin!
STEP 1: Install and Activate the Necessary Plugins
For this tutorial, first we need to install WPForms.
To install WPForms plugin installed on our WordPress website follow the steps given below –
1. Go to your WordPress Dashboard and click on Plugin and then click on Add New.
2. Type WPForms in the search box.
3. Click Install and then Activate.
4. Once you have a license key head over to WordPress dashboard and then WPForms > Settings.
Note: One MUST have an Elite license to use this feature.
3. Now enter the License key to get started.
4. Now, once you've got WPForms installed and your license is verified, you'll be able to quickly install and activate the Zapier addon.
STEP 3: Connecting Your Zapier Account to WPForms
1. After Installing and Activating Zapier addon, go to WPForms » Settings and click on the Integrations tab.
2. Now click on the Zapier option to expand its settings and then click the Add New Account button.
3. This is where you will find the Zapier API key for your site. Keep this tab open and log or signup into your Zapier account. After logging in, you'll need to click the black + button in the upper left corner. Now we will create a new Zap.
4. We are now on the setup page for your new zap. Name the Zap.
Now, select WPForms as your first app.
5. Now, on the next step Choose Trigger Event. Since WPForms only has one trigger option (New Form Entry), you can simply click the Continue button to proceed.
6. Lastly, we will connect Zapier to WPForms on your website. Click the Sign in to WPForms button.
7. Here you'll need to add your API Key that we had earlier. To find your API key, go back to the tab where you kept your WPForms Settings open in our third step. Then copy and paste the key here.
8. Enter, your website URL. Click the Yes, Continue button.
9. After your website is connected, Zapier will then ask you to choose which account to use for your Zap. Click on the dropdown menu to select your site, and then click Continue.
10. Now you'll have to select the form you'd like to use and click Continue.
STEP 3: Test
After connecting your WPForms contact form with your Zapier account on your website, Zapier will then bring you to the Find Data step so we can test the connection.
Remember: The chosen form must contain at least one entry in order for the test to work.
1. Select either the Test & Continue or the Test & Review button before continuing.
2. If Test & Review is selected, then after a few moments you should see your form entries.
3. Click the Done Editing button
4. If you've selected the Test and Continue button, Zapier will automatically take you to the next step if things are working properly.
After checking your sample entries, Zapier will ask you to Choose App & Event.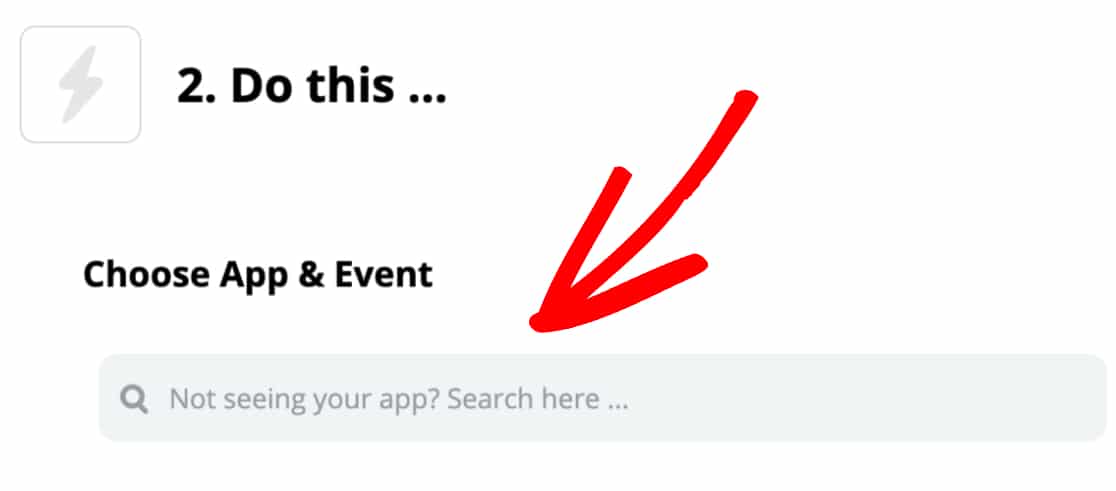 This app is the service you'd like to send your form entry details to. Zapier has over 2,000 apps and services available, and you can find more about the integrations they offer on Zapier's site.
5. After selecting an app, Zapier will walk you through steps to pass form data to your chosen service.
This is it!! Follow these points step-by-step and you will be able to install and use the Sendinblue addon with WPForms.